Handmade, One of a Kind Kraslice from the Czech Republic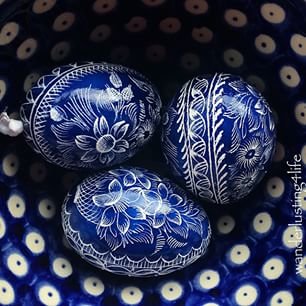 Though eggs are celebrated and decorated throughout the world in many cultures, these varieties originate in the southern Czech region of Moravia. These real hen, goose and ostrich eggs from Moravian farms are blown and sterilized, then, using a variety of traditional techniques and a handful of specialized tools and traditional archival dyes, the eggs are etched, engraved, and painted to create a work of art that stuns and delights!
Traditionally, eggs are used at Easter when the boys and girls make and exchange eggs and celebrate Spring's arrival. To read more about this rich and fascinating tradition, click here.
The artisans that create these wondrous eggs one at a time are part of a collective dedicated to keeping the tradition alive. Each artist has an average of 30-40 years experience making the eggs, and their astonishing expertise shines through in the extraordinary workmanship you see in each and every egg.